Below are some local pet-related businesses and non-profit organizations we highly recommend. To learn more about any business on this page, just click on their logo and you will be taken directly to their website.
---
Mission Statement: "To provide exceptional care and compassion for pets and the people who love them."
Value Statement: "Grace Park Animal Hospital strives to provide compassionate, personalized care to all patients and provide an outstanding level of customer service and education to our clients. We believe in service to the community, and strive to help all animals in need."
---
Paw Prints animal Rescue (PPAR) is an all-volunteer nonprofit organization dedicated to reducing the population of homeless cats, kittens, dogs and puppies through foster care, medical treatment, and adoption into forever homes. They maintain two programs — a Rescue and Adoption Program and a Feral Cat Management Program. Individual donations are our most important source of income as they receive no public funding. Paw Prints makes a lifetime commitment to every animal that they rescue. Check out their home page to find out about their upcoming adoption events in your area!
---
The Pet Pantry® is one of North Carolina's premier distributor for pet food nutrition, delivering 100% Natural, and Holistic Dog & Cat food right to your door. They offer free samples of any of their blends, as well as FREE local delivery to most areas in The Triangle. The ordering process is easy and seamless and any questions you may have are answered very quickly by Thor, the owner of The Pet Pantry.
---
Pet Tech is the first international training center dedicated to CPR, First Aid & Care for dogs and cats. Their PetSaver™ Training is a one-day course designed for pet owners as well as Pet Care Professionals.
---
Shiloh Animal Hospital is an innovative, full service animal hospital located in Morrisville, NC. Their veterinarians are dedicated to providing the best care for your animal by combining modern, conventional medicine with traditional Eastern medicine; tailoring them to the individual needs of your dog or cat. They believe in treating the whole pet, focusing on the prevention of disease and the maintenance of health and wellness.
---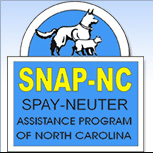 SNAP-NC is a nonprofit organization providing discounted spay-neuter services to North Carolina residents. "Our Mission is to address Pet Overpopulation in our State by offering high quality, low cost spay-neuter surgeries for pets belonging to North Carolina families in need."
---
The mission statement of the SPCA remains as relevant now as it was when it was written in 1967: To protect, shelter and promote the adoption of homeless animals; to provide education about responsible pet ownership and to reduce pet overpopulation through spay/neuter programs.
---
VetMobile is a mobile veterinary practice providing convenient, affordable, personal care for your pet right at your home. In addition to routine physicals, vaccinations, basic blood work, blood pressure check and blood glucose monitoring, Dr. Marty provides Hospice Care in coordination with your regular veterinarian's medical treatments, and at-home euthanasia when the time is right.